INVOIER SUBSCRIPTION FINANCING
Instant access to the entire year's sales
Finance your company without taking a loan. Get access to all-year sales instantly, whether your customers pay monthly or quarterly.
Running a company whose customers pay monthly has many advantages, but one of the difficulties is to scale the business. Building a cash flow takes time. Although the profitability and value of a new customer is great, it takes time before you can make investments in growth that pay off.
With Invoier's subscription financing, it is easier than ever for companies with subscription customers to directly get the value of a sale - and thereby improve cash flow and facilitate continued growth.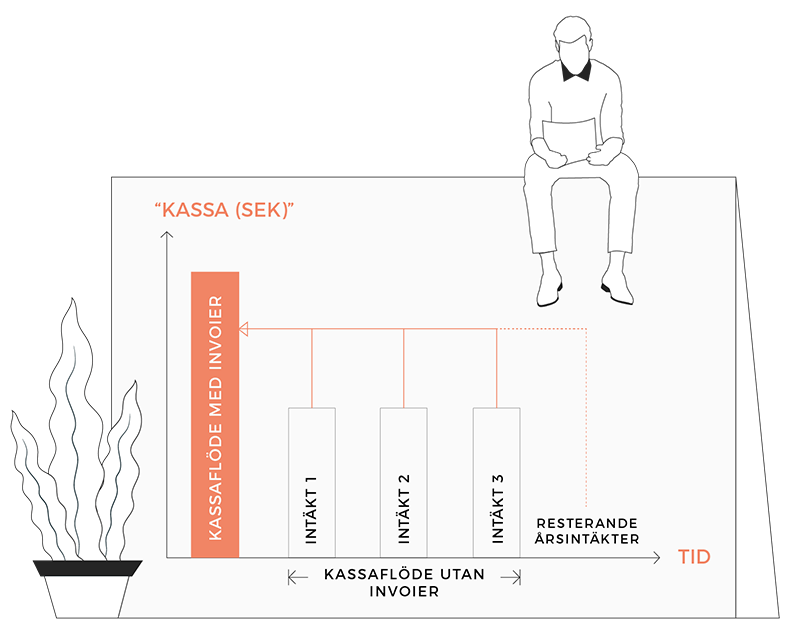 Direct financing -
get paid up front
Get access to all-year sales directly, regardless of whether your customers pay monthly or quarterly

Happier customers
With this financing solution your company receives money in advance, which means that you can offer your customers more flexible payment options

Afford to grow
Advancing your customers' payments is an effective way to afford to grow without having to bring in new owners or take company loans. Improve cash flow and facilitate continued growth by directly getting the value out of your subscription sales
Frequently asked questions
How much capital can be obtained?
Invoier makes an assessment of both your customers and your contract structure. Based on these factors, 3-12 months are normally discounted.
How is the invoice recipient affected?
The financing does not mean any increased cost or other consequences for your customers. Payment is made as usual in terms of price and frequency. There will be a text on the invoices showing that the invoice has been transferred to Invoier. Otherwise, you can keep your normal invoice layout if desired.
Do you commit to financing all customer subscriptions?
No. You decide for yourself what proportion of your customer subscriptions you want to get financed.
What happens if a customer ends their subscription?
If that happens, we simply replace the terminated subscription with an active one. No penalties or fees.
What does Invoier need to assess my company?
In order to be able to make an analysis of your financing possibilities, we need to take part in you accounts receivable and a copy of the agreement you have with your customers.
Can't find what you're looking for?
Book a meeting with our financial advisors!
We help many companies finding the financial services best suited for them. Book a free counseling session!